Short description 
Metaproteomics is a powerful method to acquire in-depth data on microbiomes, with the human gut microbiome being of particular interest to researchers. LC-MS/MS-based metaproteomics is used to characterize taxonomic and functional microbiome composition in the field of health, environmental sciences, and biotechnology. The abundance of proteins generally correlates well with actual activity and can detect proteins from the environment, such as host protein in the human gut or substrate proteins in biogas plants. The long-term goal of the metaproteomics research community is to contribute to the complete exploration of the human gut microbiome and to offer an attractive option for routine diagnostics. Standardization and data integration are key milestones toward this goal. Routine diagnostics is only feasible if a large enough body of data is available. In principle, this data already exists, but further efforts of data integration have to be undertaken. The Use Case MetaProt aims at standardization and data integration in human gut metaproteomics by achieving two objectives: 1. the creation of a curated protein sequence database of the human gut microbiome, and 2. the creation of a metadata annotation and file conversion tool that produces a uniform output from diverse sources of experimental data.
Graphical abstract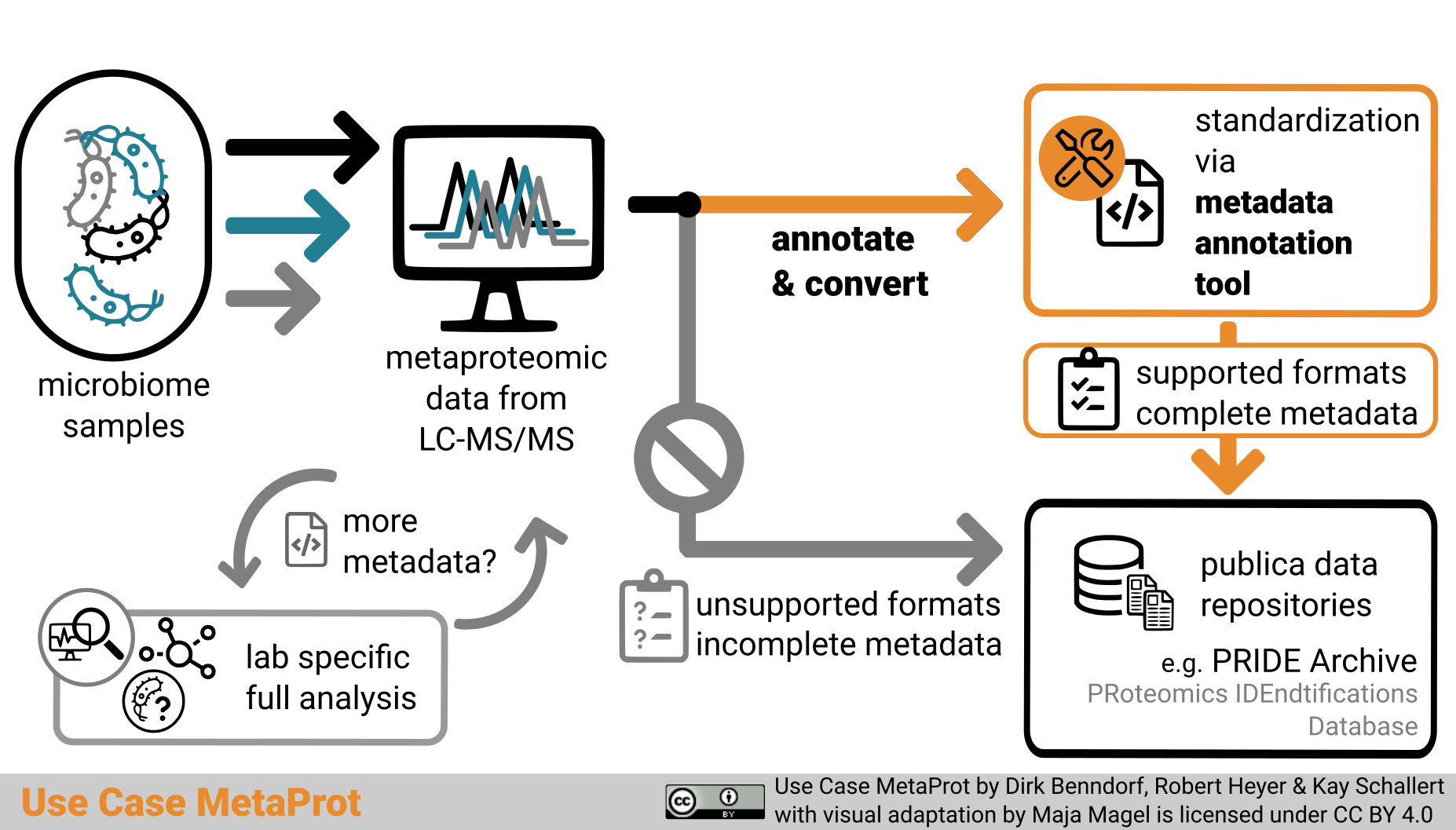 Graphical abstract "Use Case MetaProt" by Dirk Benndorf, Robert Heyer and Kay Schallert with visual adaptation by Maja Magel is licensed under a Creative Commons Attribution 4.0 International License (CC BY 4.0).
How you can contribute  
You are a … 
microbiologist beginner interested in metaproteomics:
Get trained on metaproteomics data handling focusing on the bioinformatics aspect, and the tool MetaProteomeAnalyzer.
microbiologist with knowledge of omics metadata standards:
Reach out to us during conferences and contribute to standardizing metadata collection across multiple omics communities
bioinformatician curating metagenomes datasets:
Provide curated data and metadata from human gut microbiome samples.
Output 
Below, you will find the output provided by the Use Case. If you are interested in the development stages of the project, these are indicated by the following tenses and suffixes.
The output for the research community is already established (-ed for past tense), is currently being (-ing for present progressive) in progress, or will be soon set-up (present tense) for future endeavors.   
Establish requirements for metaproteomics data handling and establish a metadata standard by December 2023
Discuss tool and standard compatibility with other omics communities
Develop standardized database for protein identification based on existing protein sequence databases by October 2023
Present and advocate for the use of the metadata annotation tool on conferences throughout 2023
Hosting a workshop to teach metadata annotation to researchers in the field
Research output:
Publication about metaproteomics metadata standard and best practices by October 2023
Infrastructure output:
Web service for organizing metaproteomics metadata
Web page providing databases for protein identifications in metaproteomics